bikeNOW - 02 / Sep / 2022
Casting Lines - A Bikepacking / Fly fishing trip in Lake Mountain
To break out of the post-lockdown blues we planned a nature escape that would combine the simple pleasures of riding a bike, casting lines and chasing fish. A perfect opportunity to connect with Lake Mountain's unique landscape and vegetation as well as making memories with friends.

'Nothing compares to the simple pleasure of a bike ride' is one of those famous quotes by John F. Kennedy, famous perhaps for the wisdom that it carries, more than for the person who said it. 
All those who have recreationally ridden a bicycle should know that Kennedy was right. However, the ex-president didn't realize (and possibly neither many of us) that something that may be compared to and even surpasses that addictive pleasure is to combine pleasures.
A bicycle is a freedom machine that allows us to carry out different activities while simultaneously enjoying the bike itself. It is up to each one of us to choose those activities that generate the greatest pleasure. For example, in my case, a good bike packing trip combined with a fly fishing session does it for me. What in this world could compare to this pleasure overdose? A new adventure was being cooked.
So, I gathered my adventure partners Sascha and Nathan, prepared our fishing gear, loaded our bikes and headed to Marysville, Victoria. Marysville is a small village located an hour and a half from Melbourne, that despite being devastated by the fire in 2009, today has mountains covered in blossoms and rivers that house thousands of brown and rainbow trout. It is a place of contrasts, where the skeletons of burnt trees mix with the new vegetation and the kindness of its people tinge the hostile environment of this magic village. All of this was the perfect combination for a weekend loaded with the best Australian adventure.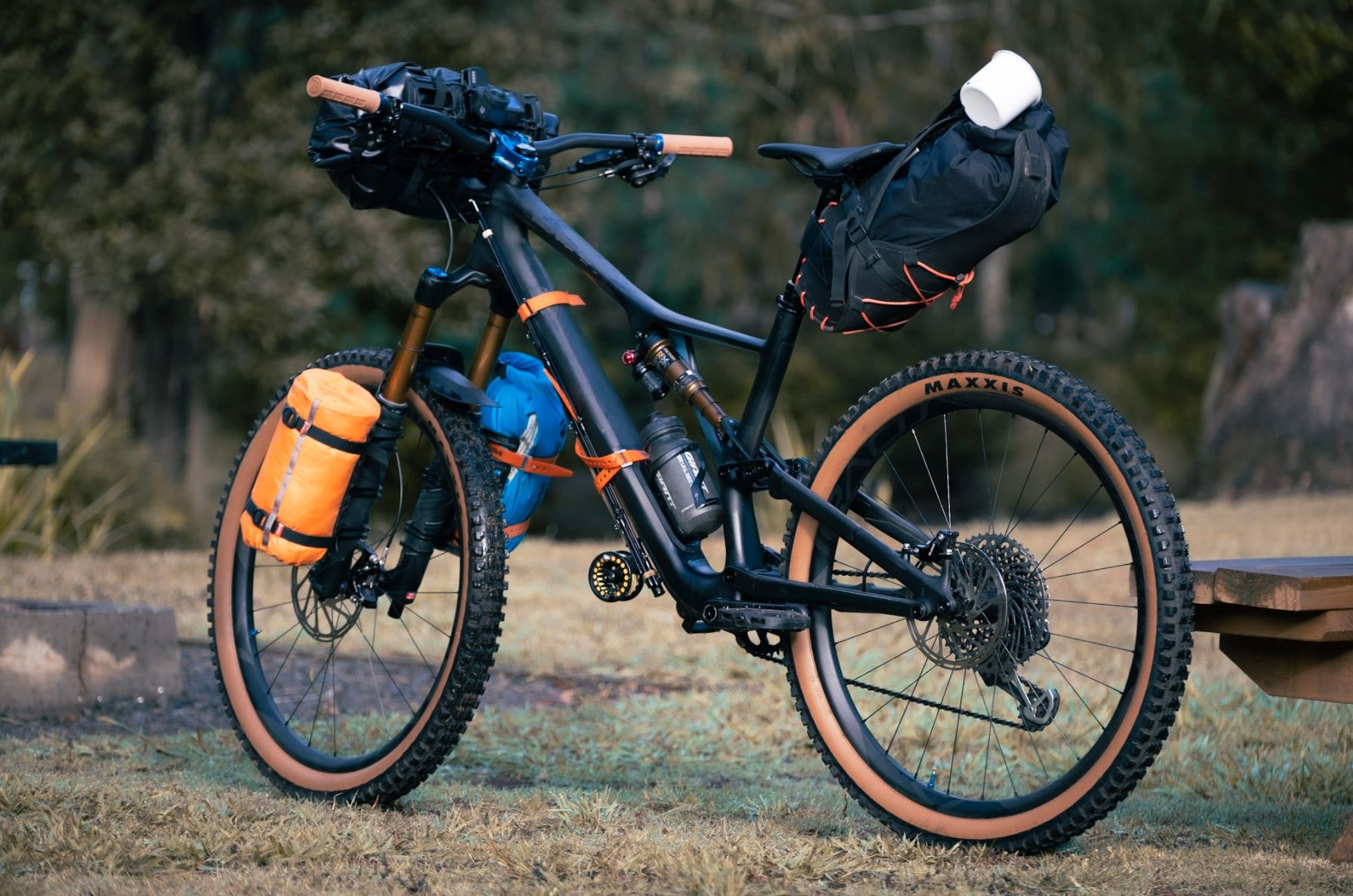 The morning of our first day was spent wandering the Taggerty River, learning about the fish swaying in it, what they eat, and the places in which they patiently wait for that 'fly' that would make their day. Time passes between each reeling in, and little by little, we begin to acquire the necessary skills that allow us to catch a pair of fish. It took us until 4 p.m. to be satisfied with what we caught, so we could start our journey to Keppel Hut, a small wooden cabin in the middle of the forest of Lake Mountain.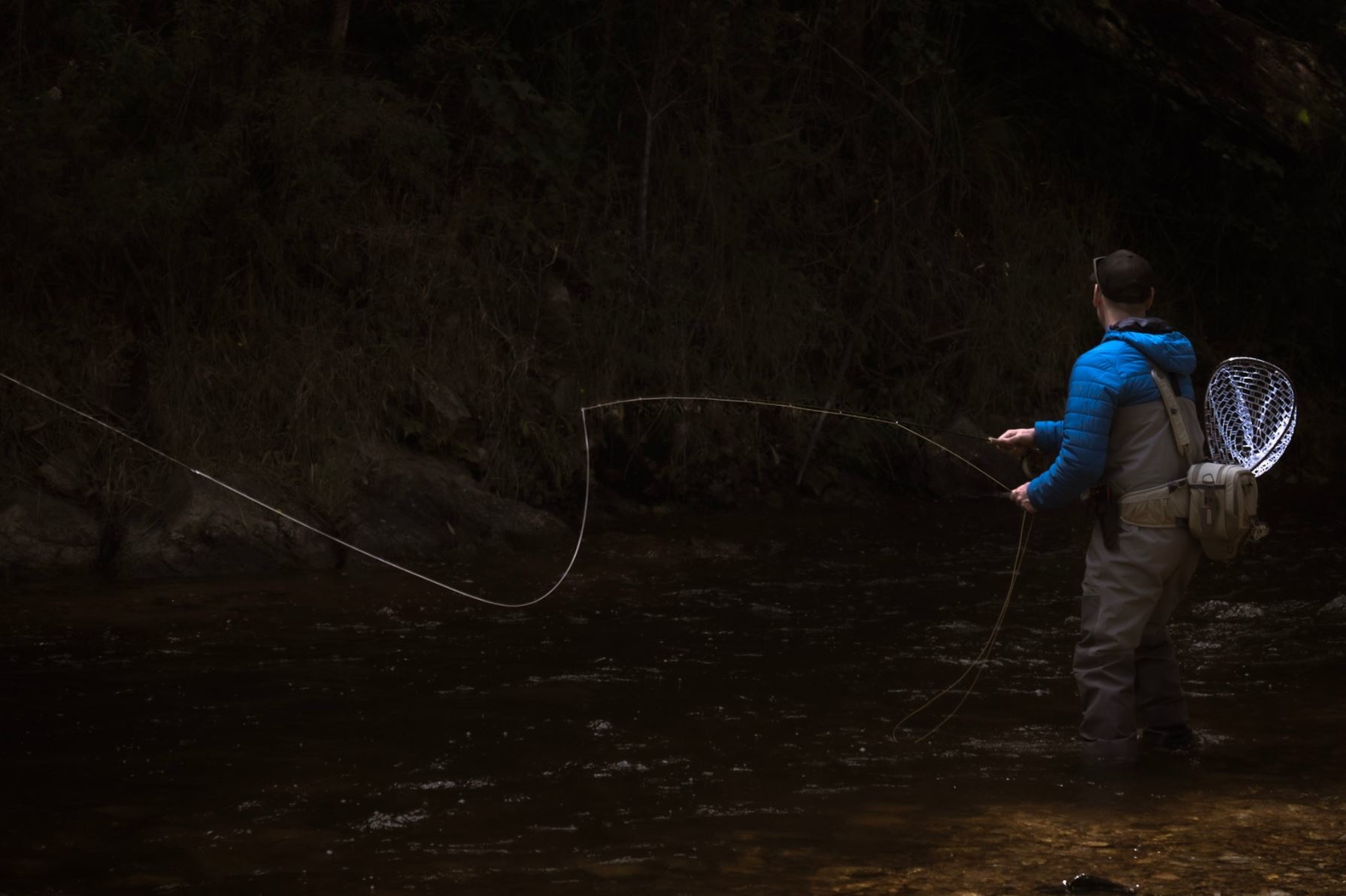 Each pedal strike reminded us that the long fishing day weighed in our legs, even more than the bicycle itself. With each kilometre, the terrain got increasingly rougher, and the slopes gradients increased while the amount of light decreased. The anxiety of arriving was taking over, and an error in the traced route filled us with false hopes, showing us a shorter distance than the actual one left to be pedalled.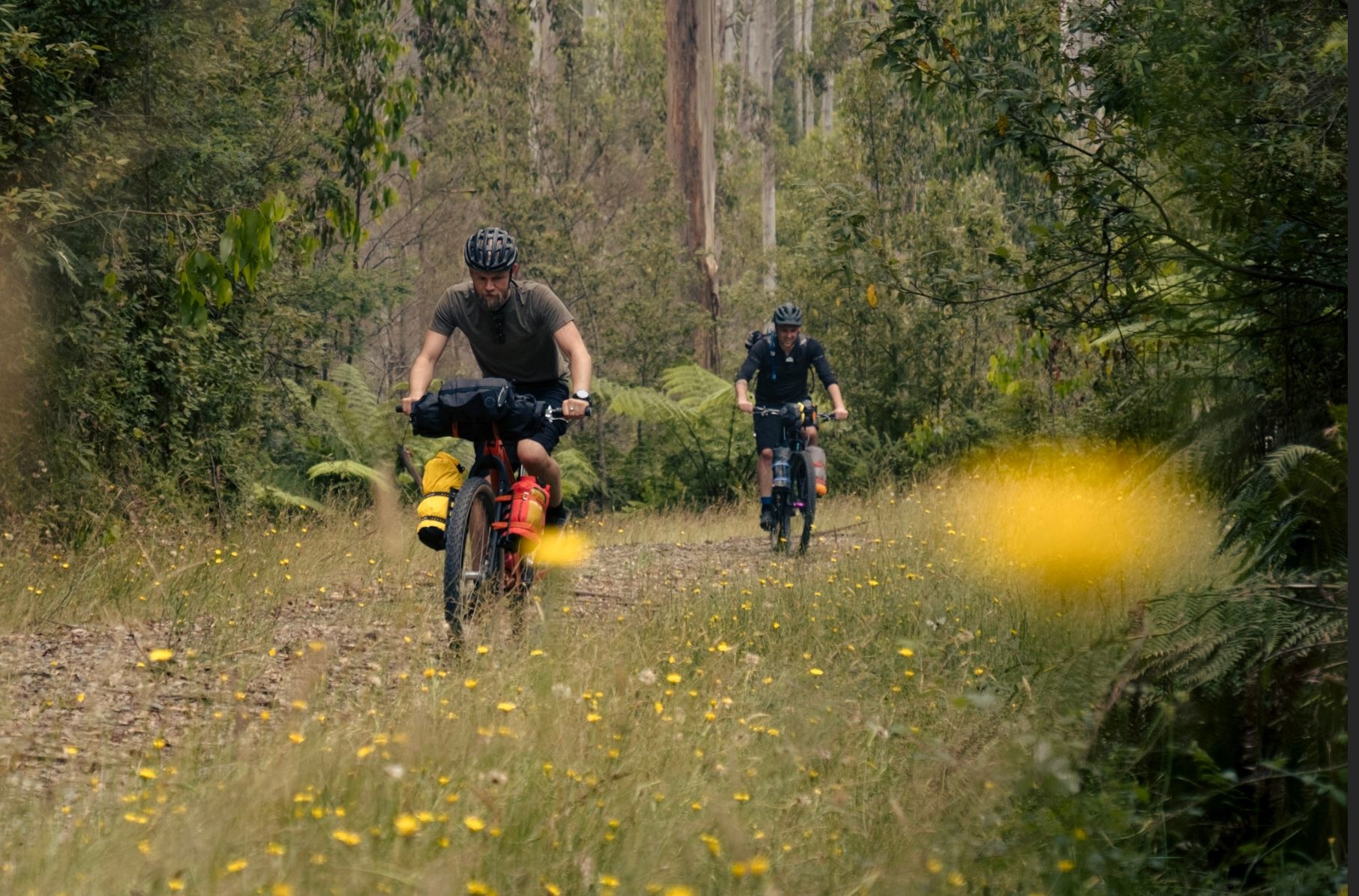 Between growling and sighs, exhausted by a long day in the outdoor, we reached the Hut around 10:30 p.m. The cozy cabin received us with open arms, rewarding us with a warm fire as a grand finale for an epic day. We cooked dinner by the fire, inflated our mattresses and went to sleep on a cold alpine night.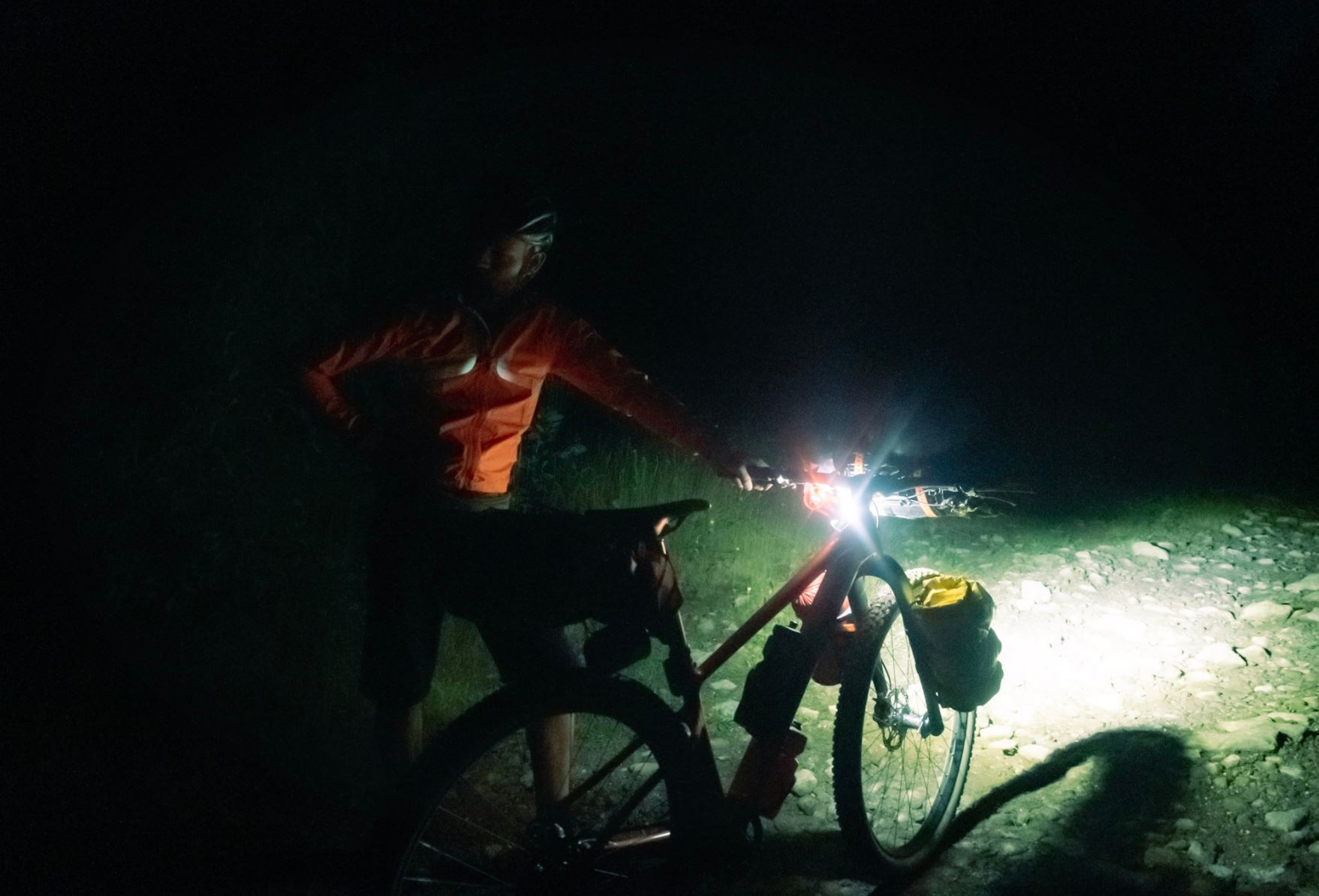 The following morning we truly felt in our bodies how epic the previous day had been; to the point that Sascha and Nathan decided to return through the same way by which we came. As for me, a tough stretch separated me from the peak of the mountain that would be my final destination. How complicated could it be? I wondered. The humidity, the dense vegetation, the flies, and the accumulated fatigue would surely let me know. However, each pedal stroke, each effort made, was rewarded with the alpine landscape's never-ending views.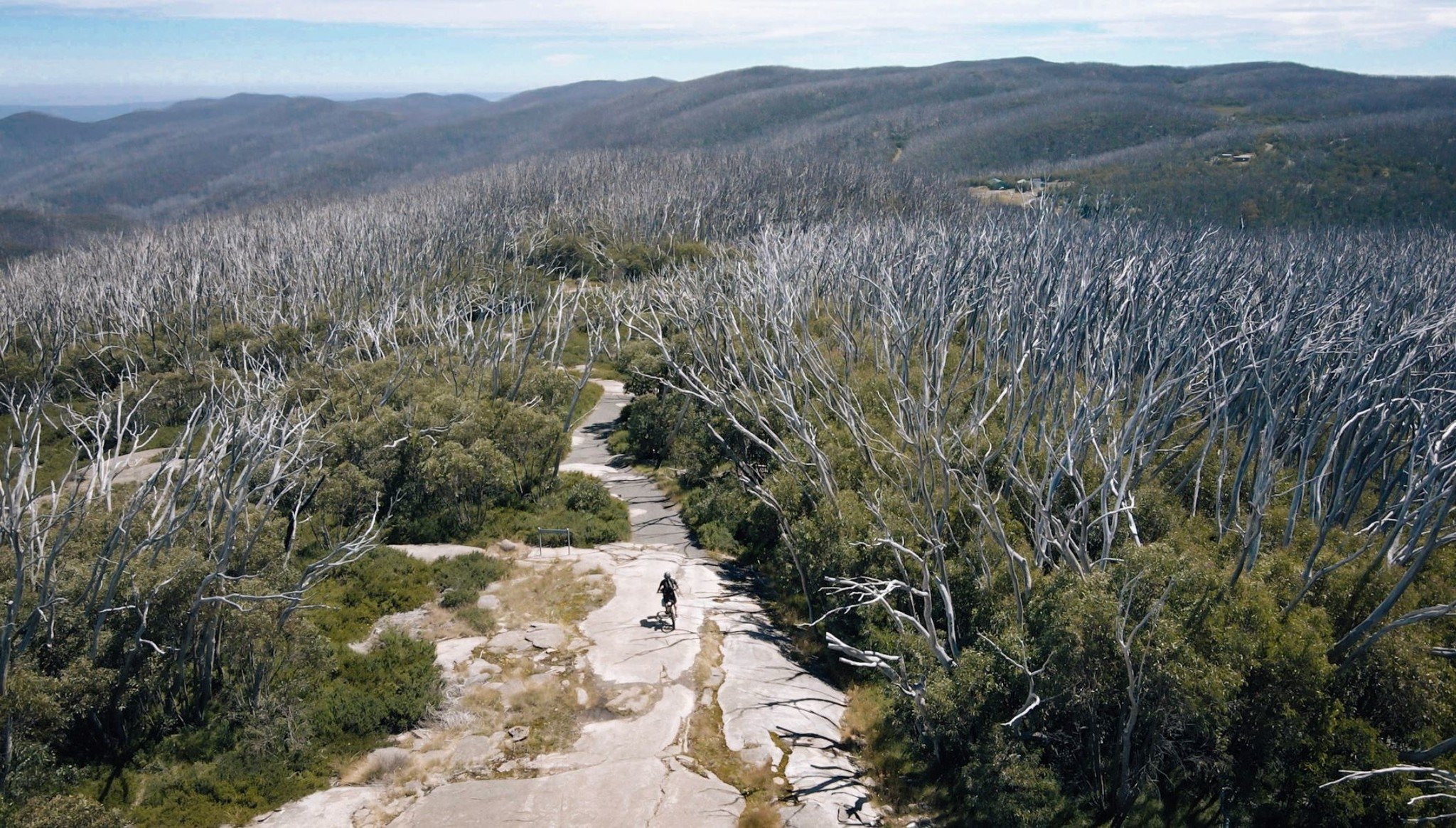 After an arduous morning, arriving at the peak of the mountain felt like an outstanding achievement. My sore body was telling me that the work had been done. Although the descent was planned to be done through the trails, an instinct of safety and a tiredness that hardly allowed me to keep standing made me reconsider making a 3-hour descent entirely alone on rough terrain. The whole experience already saved in the memory bank, and the satisfaction of living an adventure loaded with pleasures was achieved. A controlled descent on the road awaited me.  Down at Marysville Sascha and Nathan were waiting for me, wondering what would have happened if they had persevered through that last bit. My tired face told them everything they needed to know. Right after sharing our thoughts on the trip, we packed our things and went back to the 'calm' of our homes in Melbourne.
Looking for an overseas bikepacking adventure? Check our New Zealand trip - Around The Mountains
This story is no more than a simple invitation to experience the bicycle differently, combine pleasures and not solely settle for that ride Kennedy enjoyed so much; enjoy more of that which makes us feel alive. ¡ Long live the bicycle!